In-roof system - less load for more power
by guest author | 06.10.2022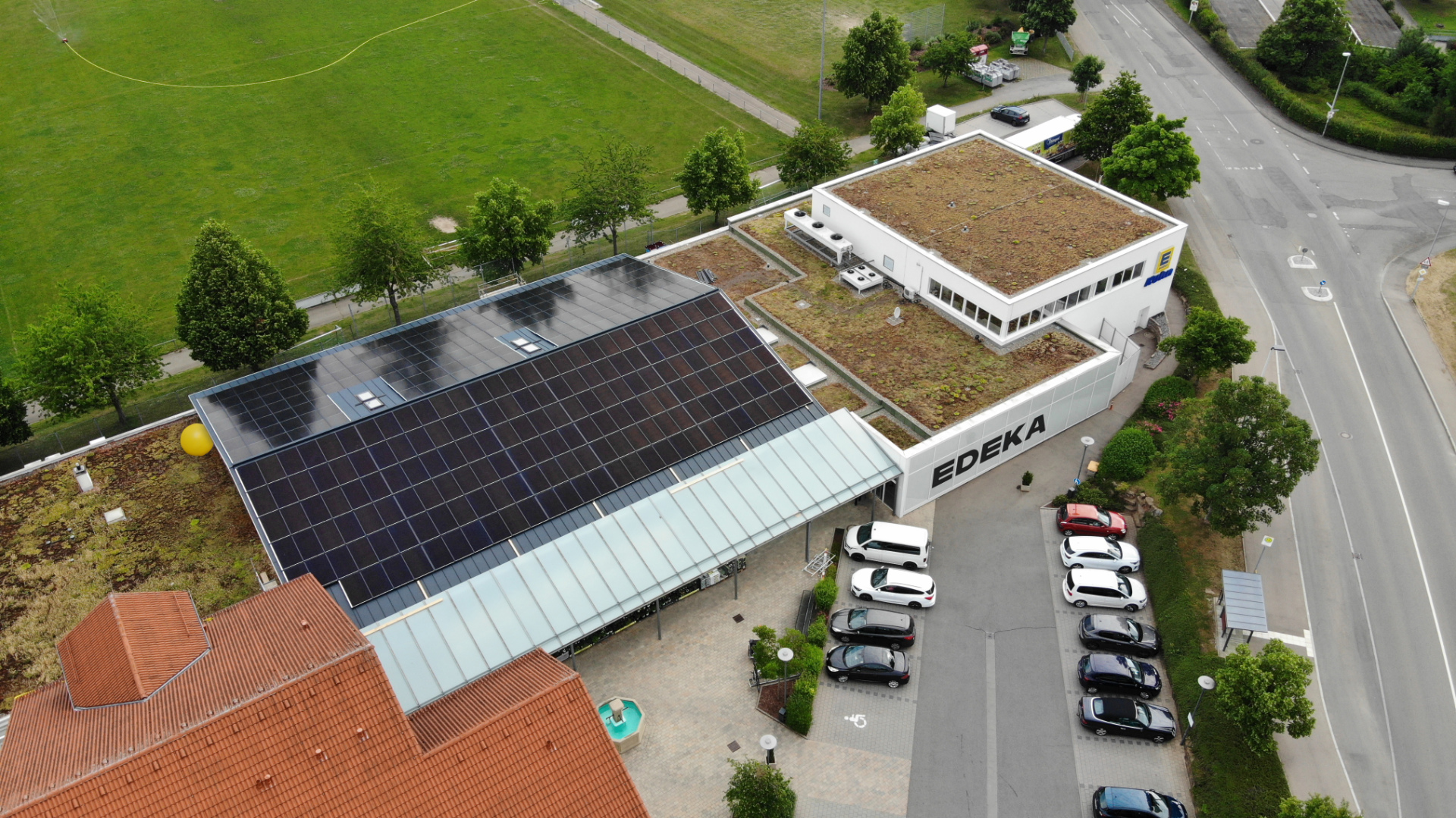 There are many good reasons for an in-roof system. At Edeka Kuhn in Balingen-Heselwangen, Baden-Württemberg, the decisive one was that, unlike the standard solution, it does not increase the load on the roof truss. With in-roof systems, large-area panels replace the roof covering. In this way, architecture and energy technology merge to form a harmonious unit. The size of the system is also unusual. 68 collectors with 360 modules make the solar power plant one of the largest in-roof systems in Baden-Württemberg. Another advantage of in-roof systems is the short construction time. The entire roof was covered in just two days.
The benefits are beyond question. "A supermarket is an electricity guzzler," says store manager Stefan Kuhn. Our system now serves him a good portion of green fodder. According to our planning simulation, self-consumption will be 76.3 percent. This drastically reduces energy costs and lowers the CO2 footprint of the popular store.
The surplus energy that is not needed for self-consumption flows into direct marketing. Direct marketing is the direct sale of self-generated PV electricity on the electricity exchange. In this case, the PV electricity is sold via the Solar-Log Platform or via the connection to a direct marketer, in this case it is Interconnector.
The "direct marketing partner" takes over the processing on the electricity exchange. For this, the system operator receives from their direct marketing partner the market value achieved on the power exchange, minus a service fee. The grid operator also pays out a market premium. This compensates for fluctuations on the electricity exchange.
With the combination of self-consumption and direct marketing, the PV energy of the new in-roof system is optimally used.
In-roof PV system, 135 kWp
Solar-Log Base
Solar-Log WEB Enerest™
Direct marketing Interconnector
VDE 4105 was fulfilled