Full of energy for humans and animals The beneficial work of Thaba Tholo
by guest author | 02.03.2022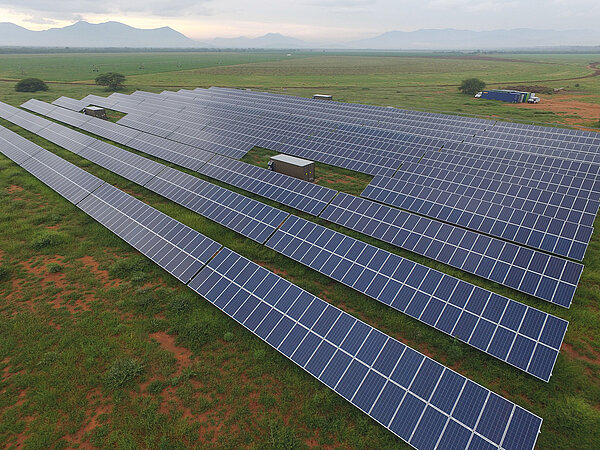 The Big Five are at home here and many other species too: the Thaba Tholo game farm in the South African province of Limpopo is a remarkable project in several respects. A professional team of game wardens, breeding experts and agricultural engineers work together with volunteers to preserve endangered species in the reserve. Rhinos, buffaloes, antelopes, lions, impalas, wildebeests and numerous other species live on an area of ​​37,000 hectares. In addition, there are a large number of exemplary social projects, aid and health offers on the Thaba Tholo Farm that directly benefit the local population.
Thaba Tholo focuses on green energy and sustainability in all areas. The 750 kW solar field built by the South African energy project developer Telenetix is ​​part of a specially constructed stand-alone grid to ensure the electrical supply. Among other things, the micro grid is used to generate the electricity for the company's own irrigation system in the extremely dry area. It has hardly rained at all in the region, which is a three-hour drive from Johannesburg, for four years. Telenetix is ​​Solar-Log's country partner in South Africa and is known, among other things, for large energy infrastructure projects that are always based on photovoltaics.
Solar-Log comes into play with the solar system. The functionality of the large solar system is reliably monitored by a Solar-Log 2000. Permanently saving electricity and keeping your own ecological footprint as small as possible - that is important to the Thaba Tholo team around Managing Director Rubin Els and General Manager Wouter Maree.
All the equipment for operating the power generation is located in specially converted, refrigerated shipping containers on the wildlife farm site. This extends the service life of the components, while at the same time safety considerations play a major role.
The Thaba Tholo game farm has existed for 30 years. In order to preserve genetic diversity and species richness, many specimens of individual species are included in the reserve. The animals have enough space here and are only hunted in a narrow context in order to maintain the natural balance. However, hunts are also offered as a tourist attraction in the reserve. Lions, leopards, hyenas and other predators ensure a selection process without human intervention. "At Thaba Tholo, we believe that the treasure of African wildlife should be shared by everyone who lives on this continent," says Rubin Els.
The game farm concept has been so successful that there has been an annual auction since 2008 at which surplus animals are sold to zoos and wildlife parks. Last year, 223 animals were up for auction. You can bid worldwide via a corresponding app. The animals are in great demand: a few years ago, an unbelievable 10 million euros was paid for a breeding buffalo. To finance the work, the auction is an important building block. Incidentally, Thaba Tholo lives on donations and the commitment of several wealthy families.
Efforts to conserve local wildlife are just part of Thaba Tholo's beneficial work. The employees find good working conditions here. Outside the actual reserve there are four villages where they live with their families. In contrast to many other villages in the region, there is reliable electricity and water supply here. The education of the children in these villages is particularly important to the management of the game farm. Thaba Tholo supports five schools in the region that are open to children from all over the area. The employees contribute to their financing. More than 700 children go to school here. Spitskop Special Needs School in Thabazimbi is the only school in the entire province that educates children with Down Syndrome, Autism, Epilepsy and Developmental Disabilities.
Thaba Tholo's commitment also extends to adult education. A literacy campaign for employees is a good example. Employees also have access to health care programs, which is far from a given in the region. Thaba Tholo also contributes to the country's food security by producing corn, soy, wheat and grasses as food supplements on its own farm.