The Pfitscher family produces high-quality wines with great ecological awareness
by guest author | 01.05.2020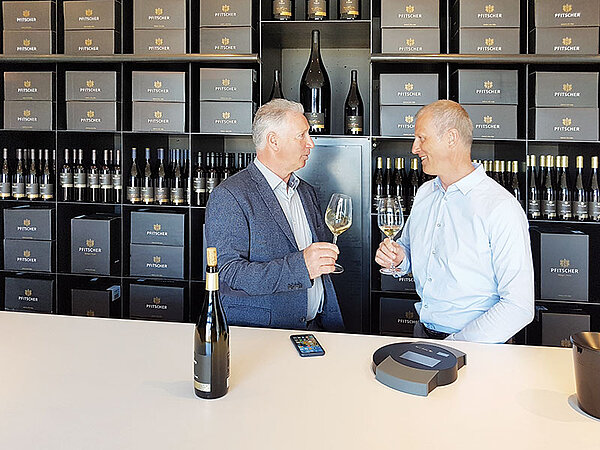 Man lives from nature. This awareness applies to a winery just as it does to a company involved in photovoltaics. When both work together, something very good comes out of it. South Tyrol is home to the Pfitscher family, which has been involved in viticulture for almost 160 years. It produces its high-quality wines sustainably and is the first winery in Italy to be awarded the KlimaHausWine certificate. This means that the Pfitschers meet numerous specifications for environmental protection and climate friendliness in their family business. Electricity from photovoltaics is a matter of course. The Pfitscher winery works with the Solar-Log™ and a consumption meter.
Spectacular, the winery is located in the middle of the vineyard, embedded in nature, as if it had always stood here. Built and operated in an environmentally friendly way. Three generations produce wine sustainably on 17 hectares. Over 100,000 bottles are bottled each year, slightly more white than red. Gewürztraminer, Sauvignon Blanc, Vernatsch, Lagrein and above all the high-quality Pinot Nero.
Monika and Klaus Pfitscher made a groundbreaking decision about 10 years ago when they decided to build a new winery. The winery in the village had become too small. They moved up into the vineyards. The new buildings meet countless requirements for ecological construction. As if that were not enough, sustainability is also lived in everyday life - with environmentally friendly power generation through photovoltaics and efficient energy management thanks to Solar-Log™. Rainwater is collected and the use of pesticides is minimized. Wine bottles are packed in reusable cardboard boxes and even the labels are made of certified paper. This environmentally conscious behavior "has many advantages," Daniel Pfitscher knows - even when viewed from an economic perspective.
Climate change has long since arrived in the north of Italy. For winegrowers, this brings special challenges. Not only nature itself is changing, but also the character of the wines. Daniel Pfitscher reports that the wines are becoming more opulent, dense and alcoholic because of the increased temperatures. "These are not the characteristics for which wine has become known here," the 28-year-old regrets. Because of climate change, he says, "there's a big trend upward." The escape from the heat leads to altitude. Meanwhile, many grow their wines at altitudes of 900 meters and higher. "We are fortunate to have always had the majority of our sites above 500 meters." That is now turning out to be an advantage.
In South Tyrol, people are smart. That's why photovoltaics play a significant role here. 40 percent of energy consumption already comes from renewable sources. Earlier than elsewhere, the realization has taken hold that we have to live in a more resource-conserving way.
System details: Installed capacity: 17.15 kWp Modules: Bosch M 60 Plant monitoring: Solar-Log 1200 & Solar-Log WEB Enerest™ Year built: 2011 Installer: Solariz Srl, Caronno Pertusella